So I have decided to get back in shape and I have actually started using my membership to the YMCA!
Mel D. at Seusstastic Classroom Inspirations has inspired me to be a little lot more active with my workout!
Thanks Mel D.! I have so many things in common with you in this area!
You can click on her button to get to her site and read her post, pick up a freebie to "give it 100", and follow her AMAZING blog!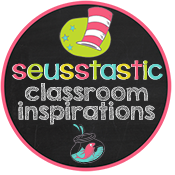 Now, I got started in the gym over Spring Break. That means I have been walking for a couple of weeks, but not on a daily basis. What I like about the "give it 100" plan is that I go daily and get to mark off a day on my sheet. Yep~ it is all about the rewards. I am such a BIG kid!
Speaking of rewards here is what I set up to keep me extra motivated!
Starting off: I needed new walking/running shoes. Yes, I needed them. My old ones were falling apart. Now I can't waste the $$ I spent on letting them sit in the closet. I am going through a black phase ... don't my feet look thinner. LOL
At 30 days: I will need a fitbit to keep track of my progress. I would get it now but gotta pay the bills. Beginning of the month and all.
At 60 days: I will need
new workout outfit. I am hoping this one is too big. HA!
At 90 days: I am going to go have a spa day! Yahoo!
At 100 days: I will be a slimmer lady in VEGAS!!! Celebrating with fun peeps and feeling a whole lot better!
Now to keep me accountable. I am sure I will not post every day but ... who knows. I will probably post on Instagram more.
Day 1: Waiting for the gym to open and SUPER motivated to get started. (I actually walked a little in the neighborhood last night) Once in, I turned on The Walking Dead, popped in the ear buds, and before I knew it I was at 40 minutes!
Day 2
: Ha
Ha
! That is me heading to the gym. I love the way my shadow looks skinny. Maybe that is a sign ...
One mile in 17 minutes...
kinda
tired from working all day so I stopped at 30 minutes. Today's feature was The Bucket List!
Day 3
: Got asked if I was having another baby ... Um no, just fat! Can't decide if I am more motivated or depressed! Hit the gym and did two miles! Today's feature: Con Air!
I would love for you to join me on this "give it 100" adventure. You can try is with anything you want to do for 100 days straight.